Former Republic of Ireland international Tony Cascarino has claimed that Wolverhampton Wanderers manager Nuno Espirito Santo is the man for the Arsenal job.
The Portuguese is being touted as a potential replacement for Unai Emery, who was sacked on Friday, after doing a terrific job at Molineux.
Cascarino feels he'd be a tremendous appointment: "He is destined to manage a top-four club," he wrote in The Times [30/11; Sport pullout, pg. 2]. "He is just what Arsenal need."
On former Tottenham Hotspur boss Mauricio Pochettino, though, he was more damning: "This is a non-starter – Arsenal want to be winner again and Pochettino failed to win a trophy at Tottenham."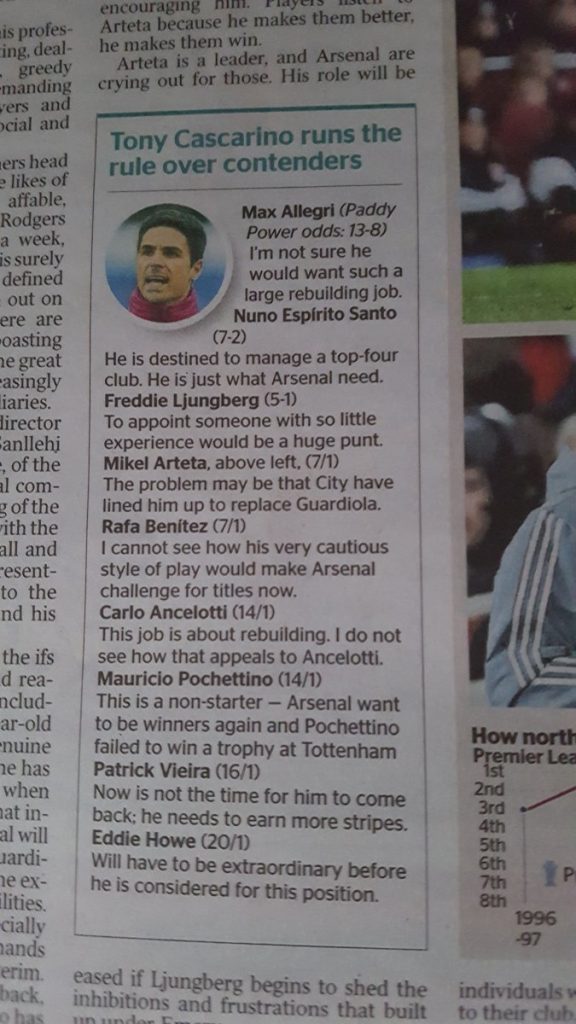 Is Cascarino right with his verdict?
It's certainly clear who Cascarino feels should be taking over at the Emirates Stadium. The only manager he says anything distinctly positive about is Nuno.
The Wolves man does feel like he will one day manage one of English football's elite teams, and it's probably the right sort of timing for him right now given his massive success in his current job and the rebuilding project obviously needed in north London.
Would he be a better appointment than a serial winner like Max Allegri? That's a matter of personal perspective, but he'd no doubt be a popular appointment.
As for Pochettino being a non-starter, you have to agree with Cascarino, there. The Argentine is likely to get offers from the likes of Real Madrid and Bayern Munich before long – why would he take the Gunners job, particularly with his Tottenham past?