Arsenal have reportedly agreed a new deal with William Saliba, providing a huge boost for their summer ahead. 
Having lost out on the Premier League title to Manchester City, planning for next season would have started the moment Mikel Arteta there wasn't a chance of catching his former side to top spot.
The drop-off in form towards the end of the season is the main culprit for the title being lost, with the injury to Saliba proving more costly than many would have thought.
That's why Saliba signing a new deal could be the most important signing for the Gunners this summer.
Is William Saliba that important to Arsenal's future title challenges?
The drop-off in form towards the end of the season was quite remarkable from Arsenal. Having lost just once in their first 19 games, Arteta's side would go on to lose five in their next 19, dropping points to teams they should be beating allowed City to push up to top spot.
Saliba getting injured didn't help matters though, and the games where Arsenal happened to concede sloppy goals could have been totally different.
The Liverpool game at Anfield seemed a turning point, sparking a run of four games without a win, conceding sloppy goals in the process.
The stats prove that without Saliba, Arsenal faired much worse defensively. Their win percentage dropped from dropped from 77.8% to 44.4% without the Frenchman, and they also started to concede more, going 0.9 goals per game, to 1.9.
Having him tied down to a new deal will not only prove to be an ambitious move, but also a signal of intent that Arteta wants to keep pushing with this team.
How does Saliba compare to other centre backs in the Premier League?
Whilst defensively, there have been better performing players this season, Saliba's presence and ability came in other areas.
For example, when it came to completing short passes, Saliba completed the seventh most in the Premier League for centre backs, and averaged the fifth highest in the league per game according to WhoScored.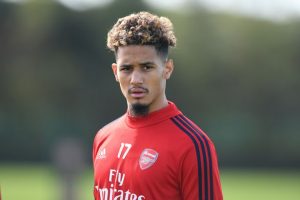 The confidence to play bravely from the back, and build from deep was a huge catalyst for Arteta and his side and without that calming presence in the backline, mistakes were being made and sloppy goals were being conceded.
At just 22, you'll struggle to find a player with as much potential as him, so ensuring he stays at the Emirates for the forseeable will no doubt save Arsenal plenty of money in the future.